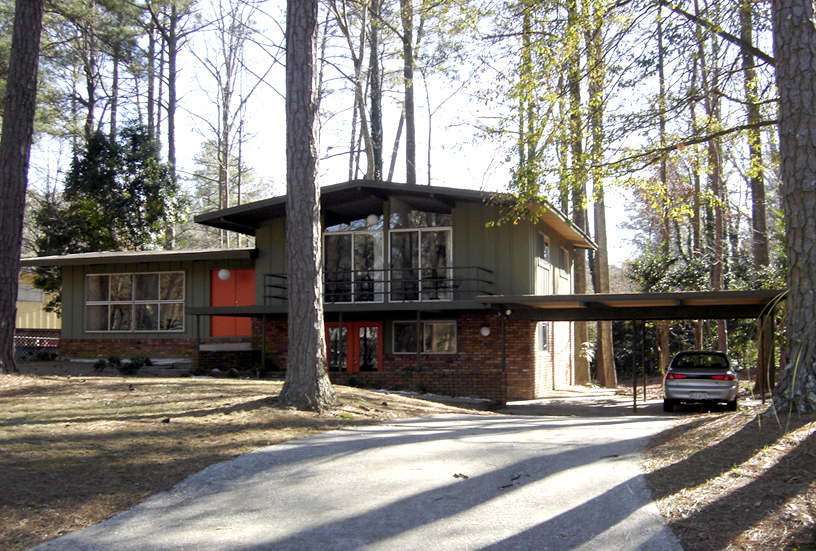 This is an actual home example found in Northcrest. I call this design Phase 1 Style 7. Notes about the homes particulars are described below.
Click the image to open a new window with more image detail. Note that if you have a pop-up blocker enabled, you may need to hold down your shift key when you click.
3224 Lynnray Dr
This design is not included as one of four multi-level Modern concepts provided by the builder P&H during the first Northcrest building phase (at least it is not represented in the pages I posses. It's possible that there were additional designs available as tear sheets or pages not included in my copies. Or this may have been a design from the initial builder that was reused for later phases). As with most of the MCM floor plans, the house is divided into left-right halves, with stacked rooms on the right and living/dining/kitchen on the opposite half. This design features a double split gable, combination roof - the lower end extends the length of construction with a lengthwise gable, while the upper roof angles the gable 180 degrees from the lower level. Interior features are similar to those covered in Phase 1 Style 1.

Some interesting features to note are the french-doors and upper-floor sliding glass doors opening to a carport roof-deck. The doors extend upward into transom windows that touch the ceiling/roof-line, clearstory style. I believe this design was offered as opposed to the design indicated as Phase 1 Style 4 (which offered a single upper-floor sliding glass opening to a similar carport roof-deck). The exterior of this particular home appears fairly original, with glob exterior lights and a wonderful period paint scheme.

In interviewing some of the neighbors, it appears that the previous owners painted an otherwise black trim exterior in white before the recent sale to Daniel and Mitch (the current owners). I've had the opportunity to view the interior and it is quite special indeed. Often the MCM homes in Northcrest have been heavily modified, or at least had their interior trim painted - this house is almost entirely original with unpainted, stained trim, pickled tongue-and-groove ceilings, original kitchen with patterned laminate counter tops, original light blue bathroom tiles, floors and even the original blue sinks and toilets. Truly a wonderful example of homes of the MCM era, in most respects untouched and waiting for the likes of Daniel and Mitch, true MCM aficionados. The furnishings in this home are really spectacular - you can tell at a glance that these are true Mid Century Modern collectors and that they "get it" - as furnishing after furnishing, accessory after detail, all congeal to display a fine example of Mid Century style.

This particular interior features a basement fireplace instead of one on the main level. A brick wall features prominently as does a high planter and skylight. Daniel and Mitch are very lucky to have a full basement so this home is really a "quad-level" rather than the more usual "tri-level" - the utility room in the basement reveals an additional doorway down steps to a fully enclosed sub-basement - great for storage or in Daniel's case, an artist's studio.