Northcrest in the News
Northcrest has recently found itself the subject of several news articles. You'll notice in these articles some common threads, mainly that the homes here are unique, that Northcrest has a high level of diversity, and that Northcrest is one of the few areas that still has that "neighborhood feel" that many of us remember from our childhood (or at least can imagine from old episodes of Leave it to Beaver).

Here's a collection of those news articles still available online (listed alphabetically by publication then date):



Luxury 101 - Our Design Diva Spells It Out
Atlanta Homes & Lifestyles 2006.12
Ranches are in and way below market...



Save the Date! Modern Living - October 6-7
DOCOMOMO US, Georgia Chapter News 2006.08.20
Homes in Northcrest as part of a Modernism tour...



Realtors Who Choose Modernism over McMansions
Dwell 2005.09
If it seems like lately everyone from the incredibles to the people...



Northcrest revels in bygone era
Atlanta Journal Constitution 2005.02.04
Every once in a while, we stumble onto a hidden treasure...



Northcrest - Welcome to the subdivision of retro chic
Creative Loafing 2005.03.16
Northcrest rates as one of the best neighborhoods in Atlanta



Eye of the Beholder
Creative Loafing 2004.11.10
Frank Mullen's Northcrest home is a dream come true



North by Northcrest
Southern Voice 2005.02.25
...found their dream home in the ranch design of a 1950s house...



Northcrest-Pleasantdale
North DeKalb community takes pride in its stability
The Atlanta Journal Constitution's Homefinder 1994.08.07
Former Neighborhood Association President Chuck Hunt provided this original
newspaper insert.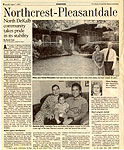 This article by Sarah Cash focuses on the neighborhood stability of Northcrest in regards to bad zoning. The article continues by quoting several residents and indicates that the neighborhood is both safe, diverse, and that residents consist of a mix of ages. The first page also stresses the community aspect of the neighborhood and that new couples are replacing retiring older homeowners, bringing children into the neighborhood. Current residents Mary and David McCowen are both pictured and quoted.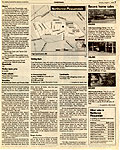 The second page provides some neighborhood development history, with references to Paul Edwards, Howard Hardrath (P&H), and Walter Talley the original developers. Also the history of Pleasantdale Park, once named Warren Field and then Vego Field after original neighborhood homeowner Frank Vego, who donated acreage to the park. Also included is a map to the neighborhood and average sales data for 1994 (interesting to compare to today's sales, which are on average about double).