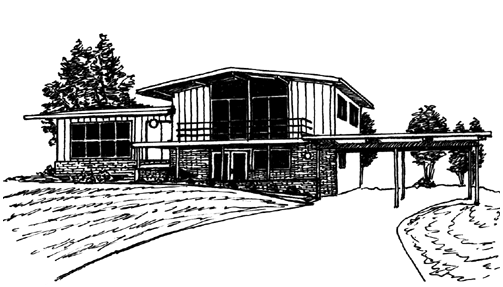 This design is representative of homes built during the first phase of Northcrest but not listed in the P&H Buider Catalog currently in my possession.
I've taken the liberty of rendering examples of various undescribed designs, attempting to maintain the style of the original catalog. These renderings are an extension of the six designs so far described.
Phase 1 Style 7
This design is one not found in my P&H catalog, but it is one of the more popular styles among the houses found in Northcrest, particularly in the last phases. As with most of the MCM floor plans, the house is divided into left-right halves, with stacked rooms on either the left or right and living/dining/kitchen on the opposite half. This design features a split gable, combination roof - the lower end extends the length of construction with a lengthwise gable, while the upper roof angles away from the split, combining two roofing styles. The second floor may have sliding glass doors from the bedrooms to a deck, produced by the roof over the carport/patio. This style may have clerestory windows or at least windows that extend to the roofline above the sliding glass doors. Some variations have the roof-line rotated 90 degrees with the doors opening to the deck on the side instead of to the front of the house. Interior features are similar to those covered in Phase 1 Style. I have viewed several examples and the upper rooms (that open to the deck) have exquisite views.

General original pricing details are yet unknown.